A book about the first Armenian Genocide recognition in the world was presented in Uruguay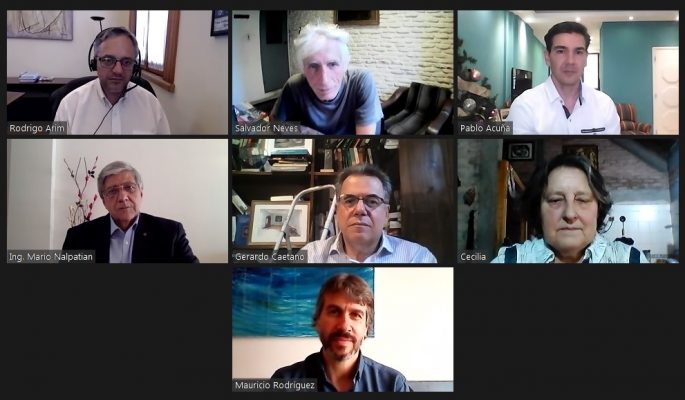 The book "The Armenian Cause, between Ararat and Uruguay. History of a recognition", an investigation that traces the path towards the historic recognition of the Armenian Genocide by Uruguay in 1965 was presented on December 15. The event was organized by the Zelmar Michelini Foundation (Uruguay) and the Hrayr Maroukhian Foundation (Armenia), and was carried out in a virtual format.
The panel was composed of Rodrigo Arim, rector of the University of the Republic (Udelar); Mario Nalpatian, representative of the Hrayr Maroukhian Foundation, Vice President of the Socialist International and member of the Armenian National Committee; and Cecilia Michelini, president of the Zelmar Michelini Foundation. It also had the participation of the three authors of the investigation: the historian and political scientist Gerardo Caetano, and the journalists and writers Salvador Neves and Mauricio Rodriguez.
Messages from the President of Uruguay, Luis Lacalle Pou, and the Vice President, Beatriz Argimon, were transmitted during the event. The leaders celebrated the publication of the book, highlighted the importance of the 1965 milestone and ratified the Uruguayan State's commitment to the Armenian cause.
In that sense, Lacalle Pou said that the book "marks an important history of commitment between Armenians and Uruguayans, a history of Uruguayans in the world who have raised their voices for the Armenian Cause many years ago, back in the year 65". "It is part of a history between peoples -a priori so different- who braided, united, joined in the cause of each one of the peoples. A large part of this is due to the Armenian Cause, to the Armenian-Uruguayans who have worked insistently for this recognition, both of the genocide and the popular cause of Armenia," said the President. Then he added: "That is why it is not only important as a historical testimony, it is also important as a commitment to the present and the future."
On the other hand, Lacalle Pou emphasized that the investigation "comes at a good time to refresh history and to project ourselves into the future", after Uruguay made statements "regarding situations that concern and alarm us all" , referring to the war in Artsakh. "We are at your service, as always," concluded the President.
Vice President Argimon, meanwhile, expressed her "joy" at the publication of a work that "has to do with the intersection of societies that had this symbiosis in understanding, supporting and, above all, interpreting that it was important to raise the voice from an international point of view so that this recognition was raised at the State level and, in this way, to be able to influence justice about what it meant not to ignore an authentic genocide".