Act in front of the Armenian Embassy of Argentina in support of Armenia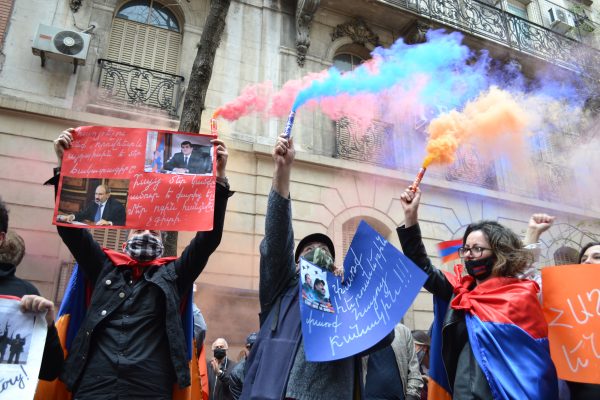 During the afternoon of October 1, an act was held in front of the Armenian Embassy in Argentina in support of the Armenian people, victims of the attacks by Azerbaijan and Turkey against Artsaj and Armenia since September 27.
Archbishop Kissag Mouradian, Primate of the Armenian Apostolic Church in Argentina and Chile, offered a prayer. The Ambassador of Armenia in Argentina and concurrent in Uruguay, Chile, Paraguay and Peru, Ester Mkrtumyan, thanked the support and said that in recent days she received samples of solidarity from Argentina, "even people ready to go and fight against the enemy of Armenia". "It is a glory for us to have such brave soldiers," she said, referring to the soldiers who guard the borders.
Next Saturday, October 3 at 3:30 p.m. there will be a demonstration in front of the Turkish and Azerbaijani Embassies in Buenos Aires, Argentina. The protest is being organized by the Armenian Revolutionary Federation, Homenetmen South America, Armenian Relief Society of South America, Armenian Youth Federation of South America and Hamazkayin.