Massive Armenian caravan in South America for the recognition of Artsakh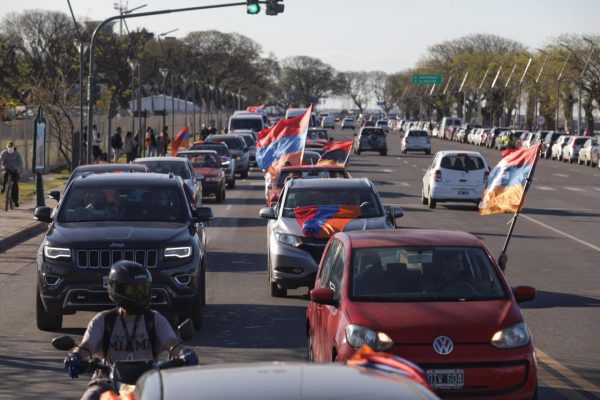 On October 31, a historic event was organized among all the Armenian communities of South America, with a simultaneous caravan in different parts of the continent to demand the recognition of the Republic of Artsakh and denounce the threat of a new genocide against the Armenian people.
At the same time, all the Armenian communities of Cordoba, Rosario, Montevideo, Santiago de Chile, Mar del Plata, La Plata and Buenos Aires rallied with their cars and organized different events in their regions.
The most important event was held in Buenos Aires. The concentration had a lot of media coverage, with hundreds of cars plotted, with flags and stickers. The event was opened by Archbishop Kissag Mouradian, Primate of the Armenian Apostolic Church in Argentina and Chile. After the anthems of Argentina and Armenia, there were choirs and musical numbers, as well as different videos on giant screen: Ara Malikian, Ara Gevorkyan, Serj Tankian and the High Commissioner of Diaspora Affairs, Zareh Sinanyan, gave their message.
Images of the journalists of Diario Armenia Leo Moumdjian and Betty Arslanian were also shown, who traveled to Artsakh to report from the site. There was also a lot of merchandising sales to raise donations for the Armenian Fund.