The Armenian Community of Argentina rallied again to the Embassies of Turkey and Azerbaijan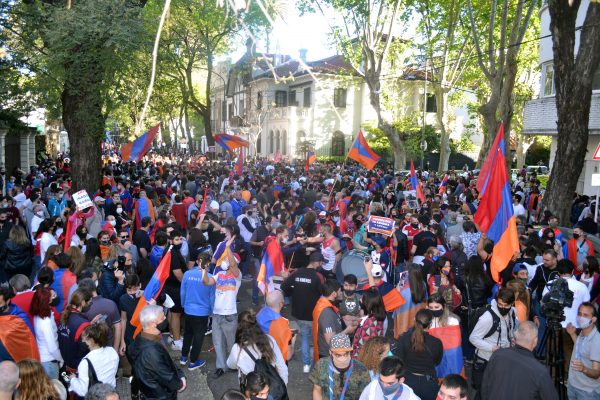 The Armenian community of Argentina rallied on October 10 to the Turkish and Azerbaijani Embassies in Buenos Aires, hours after the news of the humanitarian truce reached by Armenia and Azerbaijan.
The demonstration was organized by Armenian Institutions of the Argentine Republic (IARA), a space that coordinates all Armenian institutions of the community, Diario Armenia reported.
At the Embassy of Azerbaijan, the youth of the community read a joint statement in Spanish and Armenian: "Whereas the dictator Ilham Aliyev orders to bomb Stepanakert, Shushi and other cities, not caring about civilian deaths, Artsakh President Arayik Harutyunyan tells the world that 'the war is not against the people of Azerbaijan', making clear the differences between one and the other."
In front of the Turkish Embassy, ​​the community youth denounced that "Turkey is the same State that perpetrated the genocide against the Armenians, Assyrians and Pontic Greeks 105 years ago."
"The Armenians of Artsakh are neither the aggressors nor are they 'separatists', as they are misrepresented by some media. The people of Artsakh are defending themselves from the large-scale aggression suffered by one country - Azerbaijan - who wants to occupy their ancestral lands where they have inhabited for thousands of years, and who has the help of one of the most powerful army in NATO, the Turkish army".